Ghandi Day of Service
Carnival for the kids at Kristi's House
http://www.kristihouse.org
‌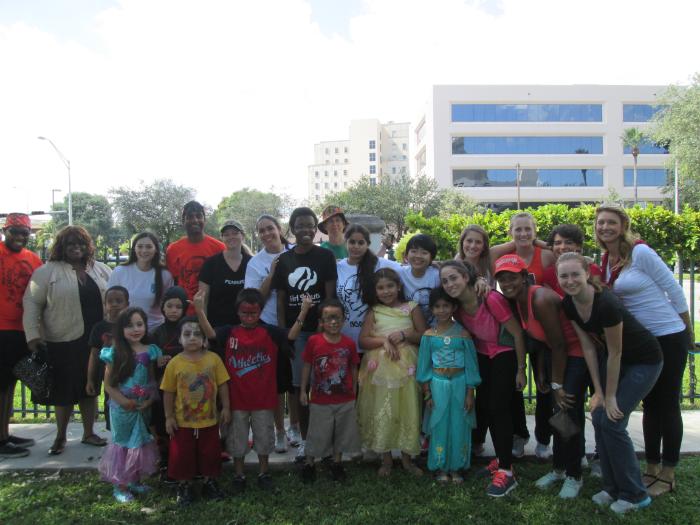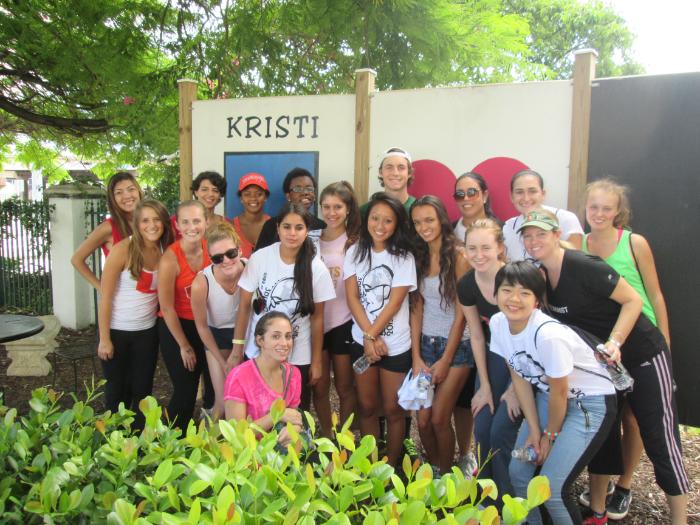 ---
A Response to "Miss Representation"
Alice Woods
Gender and Sexuality Studies Extra Credit Submission
September 12, 2013
I became increasingly frustrated as I watched this documentary. I love the premise, it is well-made, and I am inspired by the empowered men and women who speak about their experiences in politics, media, and life, however with every new issue raised I am reminded of some roadblock that I see in my own life that seems to make these problems unsolvable. I know that feminists have already made huge strides toward equality and my work in this realm is a necessary drop in the bucket, but I feel hopeless and powerless hearing about and thinking about some of the issues addressed in this film. Everything said triggers some memory of some sexist comment of representation of inequality in my life. Living on a college campus, surrounded by 18-year-old boys, there is no dearth of these frustrating moments. In some ways watching this film was disheartening for me.
But someone made the film and found these incredible, powerful women to speak throughout it. And many people saw it, recommended it, and will see it. These are all good things and in that sense I do feel empowered by it; that the changes I am making personally and the infuriating moments where my friends laugh at me for calling myself a feminist are part of a larger movement that connects me to Hilary Clinton and Eve Ensler gives me hope that some day young girls will not have to grow up comparing themselves to Megan Fox.
http://www.upworthy.com/a-4-year-old-girl-asked-a-lesbian-if-shes-a-boy-she-responded-the-awesomest-way-possible?c=fea
---
Activist Moment
By: Alexandra Sommese
Professor Westaway
GSS Fall 2013
12 December 2013
For my activist moment this semester I decided to make a YouTube video. My video presents images of topics concerning women's equality, health, safety, and role in society. I included the topics of rape, abortion rights, underrepresentation of women in politics, underpay for women in the workforce, sexual harassment in the workforce, women in the military being raped, the second shift theorem, the slut walk and slut shaming, body insecurities, eating disorders, the beauty myth, walk a mile in her shoes, and sex trafficking. I believe all of these topics should be of top priority on the feminism checklist. My video is to Christina Aguilera's "Can't Hold Us Down" which happens to be a perfect feminist song. The reason I chose this song is because the message in the song is brought to life with Christina's powerful voice. I also included mini interviews of my peers in this class at our class activism moment, U Consent. I felt that adding real young women saying what they want to see women do or have in the future makes it more real. I want my video to educate people who are not aware of how women are being treated in the United States and all over the world. I want my video to inspire young feminists to want to create social change. I loved making this video because all of my emotions seemed to come into play. Some images made me cry, some made me angry, and some made me very proud to be an advocate for women's equality and just a woman in general.  Additionally, I tried to stray away from images that put men in a negative light because modern day feminism does not promote hating men. Lastly, being a motion pictures major, I am so excited to make more of these kinds of informative videos. I believe that watching something meaningful even for just three minutes can change one's perspective on things that matter. I want the public to change their perspective and support women's equality. I want to make a difference!
http://www.youtube.com/watch?v=4posYrY9SYA
---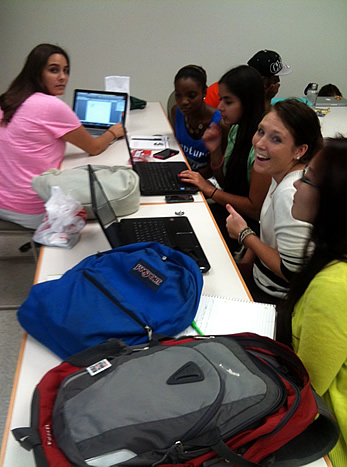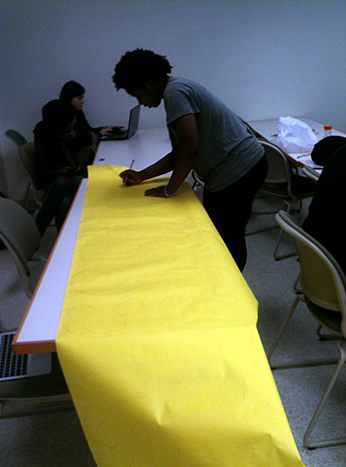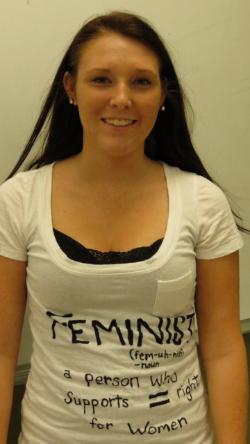 Amber Hardee
Freshman, Psychology Major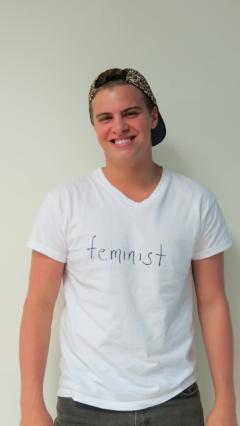 Christopher Askari-Depathy
Freshman, Psychology Major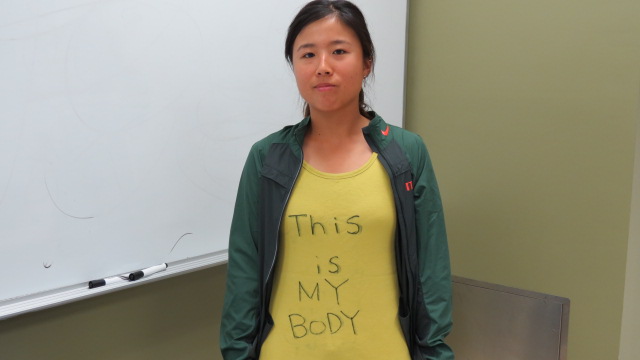 Rika Park
Junior, Exercise Physiology Major
---
GSS Inspirational Quotes:
"I myself have never been able to find out precisely what feminism is: I only know that people call me a feminist whenever I express sentiments that differentiate me from a door mat or a prostitute." -Rebecca West
"Why is it that, as a culture, we are more comfortable seeing two men holding guns than holding hands?" ~Ernest Gaines
"Because I am a woman, I must make unusual efforts to succeed. If I fail, no one will say, "She doesn't have what it takes." They will say, "Women don't have what it takes."" -Clare Boothe Luce
"The emotional, sexual, and psychological stereotyping of females begins when the doctor says, "It's a girl."" -Shirley Chisholm
---
YOU CAN VOLUNTEER AT WOMEN'S AND LGBT COMMUNITY ORGANIZATIONS
Volunteering can be a painless way to give back to the community, especially if you do it with your family or a group of friends. There are lots of excellent resources to help you find the best charity match for you. My favorites include Jumo, VolunteerMatch, and Idealist. You can find local volunteer opportunities on your phone through the Catalista app, too. ONCE YOU'RE ON THESE SITES SEARCH UNDER "WOMEN'S", "LGBT", and "GAY".
---
VOLUNTEER ONLINE
Sparked is a great way to volunteer online in your spare time by helping nonprofits meet challenges that they face, based on your interests and skills. This could mean everything from basic graphic design to research to copywriting. 
---
WRITE TO YOUR SENATORS AND REPRESENATIVES – SPEAK OUT FOR WOMEN'S AND LGBT RIGHTS. POWER TO THE PEOPLE!
Find your senator: http://www.senate.gov/general/contact_information/senators_cfm.cfm
You may phone the United States Capitol switchboard at (202) 224-3121. A switchboard operator will connect you directly with the Senate office you request.
---
Make your mark online (I might even offer you extra credit):
Below is the link from a former student's tumblr, "Effort for Perfection". It's still an ongoing project about Women's and Gender issues. I recommend you turn what you've learned about women's and gender issues into such public projects. It helps coalesce what you've learned and brings public attention to important women's and gender issues.
http://efforforperfection.tumblr.com
---
TAKE YOUR WGS ISSUE TO THE COMMUNITY:
Below is an image of a poster from a recent class project. Our Women's and Gender Studies class wanted to bring the topic of women and media to the community. So we organized a free screening of Miss Representation at UM's Cosford Cinema. Students got extra credit for organizing it and for attending. It was a hugely successful project. Think about what type of project we might do to bring the lessons we learn about women's and gender issues out of the classroom and into the community.
---
Songs to Rock Your WGS Soul
 "Same Love" - Macklemore

"Not A Pretty Girl" – Ani Difranco

"Changes" – Tupac

"Unpretty" – Tlc

"Dear Mr. President" By Pink

"U.N.I.T.Y" - Queen Latifah 

"Woman Is The Nigger Of The World" - John Lennon

"You Gotta Be" - Des'ree

"Shades Of Purple" -  Bye June

"Rebel Girl" - Bikini Kill

"

Nothin' But Love" - Brendan James

"Doll Parts" – Hole

"Let The Rainbow Shine" - Judy Small

"Respect" - Aretha Franklin

"Everybody Wants To Say I Do"  - Town And Country

"Suggestion" – Fugazi

"Oh Bondage, Up Yours!" - X-Ray Spex

"Born This Way" Lady Gaga
---
Sample GSS Class Presentation:
Usually in class I will ask students to present on a women's and gender studies topic. Here's one student's Prezi on rape, pornography, and industrialized violence against women. Your presentations are a chance to share the knowledge of these WGS issues with others.
View GSS presentation: Ch.9   on Prezi.com by clicking the link below:
http://prezi.com/hj0cmhcch6ol/english-presentationch9/