Requirements for Minor
A Women's and Gender Studies minor consists of at least 15 credits in Women's and Gender Studies courses (core, co-listed, and cross-listed) with a grade of C- or better in each course and a cumulative GPA of at least 2.0 in WGS courses. These credits must include at least 9 at the 300 level or above. All minors must complete WGS 201: Introduction to Women's and Gender Studies, WGS 301: Feminist Inquiries, and at least one other WGS core course. 
Requirements
WGS 201: INTRODUCTION TO WOMEN'S AND GENDER STUDIES (3 credits)
How are our lives shaped by gender? This course introduces students to the ways in which Women's and Gender Studies as an interdisciplinary field examines conceptions of masculinity and femininity; gender relations; gender inequalities; the intersections of gender with other categories of identity such as class, race, sexuality, and stages in the life cycle; and the broad impact of gender on society (including political, legal, economic, and religious arenas).
WGS 301: FEMINIST INQUIRIES (3 credits)
This course studies the history of feminist thought and the ways in which feminist inquiry transforms our understanding of key issues across the curriculum. This course will focus on global, transnational trends and theories that have shaped the dynamic paths of feminist inquiries. We will study what it means to be a feminist by situating the discourse in broader political and historical contexts. We will focus not only on feminist writings emanating from the United States, but since we live in an increasingly globalized world, also travel elsewhere to understand what inquiries and thoughts animate feminist theories and praxis in parts of the global south. Reading classic and contemporary feminist scholarship from a diversity of disciplinary backgrounds we will address questions of rights, equality, nature of oppression and difference. We will discuss the dynamic, historical and changing nature of feminist contributions to the understanding of what constitutes work and family, inscriptions on body, sex, sexualities, and gender. Transnational trends such as the globalized economy, developments and access to new reproductive technologies, will enable us to understand the historical intersections between different feminist movements, and how political, social, and economic structures of race, sexuality, gender and class shape the rich and complex fabric of feminist inquiries. Drawing on interdisciplinary feminist texts in history, anthropology, literary theory and literature, films, visuals, primary documents such as speeches and manifestos, the course will enable us to appreciate the diversity of feminist scholarship and activism that shape feminist inquiries. This is a writing credit course.
WGS Fall 2018 Course Listings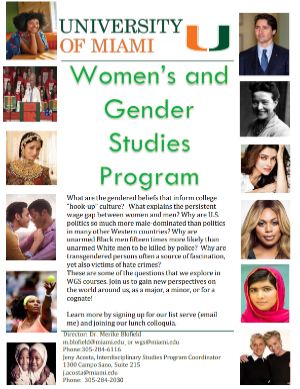 Click here to download.